PRESS

ARCHIVE
11 July 2019
"A tip for lovers of two-chord songs, Canshaker Pi and consorts - three members of The Klittens even play in Canshaker Pi side-project Personal Trainer."



21 January 2020
'Manic Dixi Dream Girl is a powerhouse song, determined and confident in its essence, but with lyrics that speak of and to troubled minds: "overall comfortable but not afraid to die" is only one of the hit-the-nail-on-the-head moments of the song. (...) Manic Dixi Dream Girl is a worthy debut for a band that we most certainly haven't heard the last of. A massive shoutout to the Netherlands for producing such wonderful talent and sharing it with the world. In music we stand united.'



17 January 2020
"At midnight, the girls from The Klittens kick off. They do that in an extremely charming and disarming way. They don't take attitude, but play pop music straightforwardly."

26 February 2020
'The Klittens: bleeding gums and British dreams. Five-piece fuzzpopband has been adopted by the Amsterdam indie scene and is now aiming for the U.K.'


15 March 2020
'Once you hear a piece of music such as 'Bleeding Gums' you don't forget it easily, that's not to say it's an instant earworm. (...) You think you know where you stand with The Klittens until they serve up a sonic curveball.'
31 July 2019
"They played the Star and Shadow (Newcastle, UK) with confidence and power, making no mistakes and protruding nothing but lively indie sounds."

2019
27 February 2020
Brand New Kink (interview starts -38:43)
https://kink.nl/player?podcast=brand-new-kink-27-februari
HARD OF HEARING MUSIC
KINK FM
3VOOR12
SPOTLIGHT MUSIC
3VOOR12
SPOTLIGHT MUSIC
3VOOR12
24 April 2020
'In casual devil-may-case fashion, these five girls conjure an infectious brand of guitar pop that oozes swagger.'

LEFT OF THE DIAL
11 July 2020
'Their first cassette EP, Pigeonhole, an interesting and promising debut which hosts three tracks, each of which displaying a different sonic feel whilst at the same time nailing potent and frequently feministic lyricism, a combination that makes the band ironically hard to pigeonhole.'
31 July 2020
'The Klittens present Google Translate at its best with Liebe Resi. (...) For the music video the ladies each went to work with an (improvised or not) greenscreen, which would undoubtedly have been a very bad idea for many bands. Not for The Klittens, who are not averse to a nice game of DIY.'


VIDEOS
MERCH




PRESS
BIOGRAPHY

HOME
28 February 2020
'Bleeding Gums' featured on Rough Trade's Counter Culture Spotify Playlist
3FM
ROUGH
TRADE
30 August 2020
'In the meantime, LUWTEN, MICH and The Klittens show how well it is with indie bands from their own country. They hold up effortlessly in the fountain on new tips.'

20 September 2020
'On stage, hot newcomer band The Klittens appeared, on the dance floor models appeared in colorful short Elzinga Studio dresses, exaggerated shapes and prints that burst the lust of existence, in a simple silhouette.'
27 February 2021
'The German lyrics work really well, it makes it even more postpunk. May I call this band one to watch?'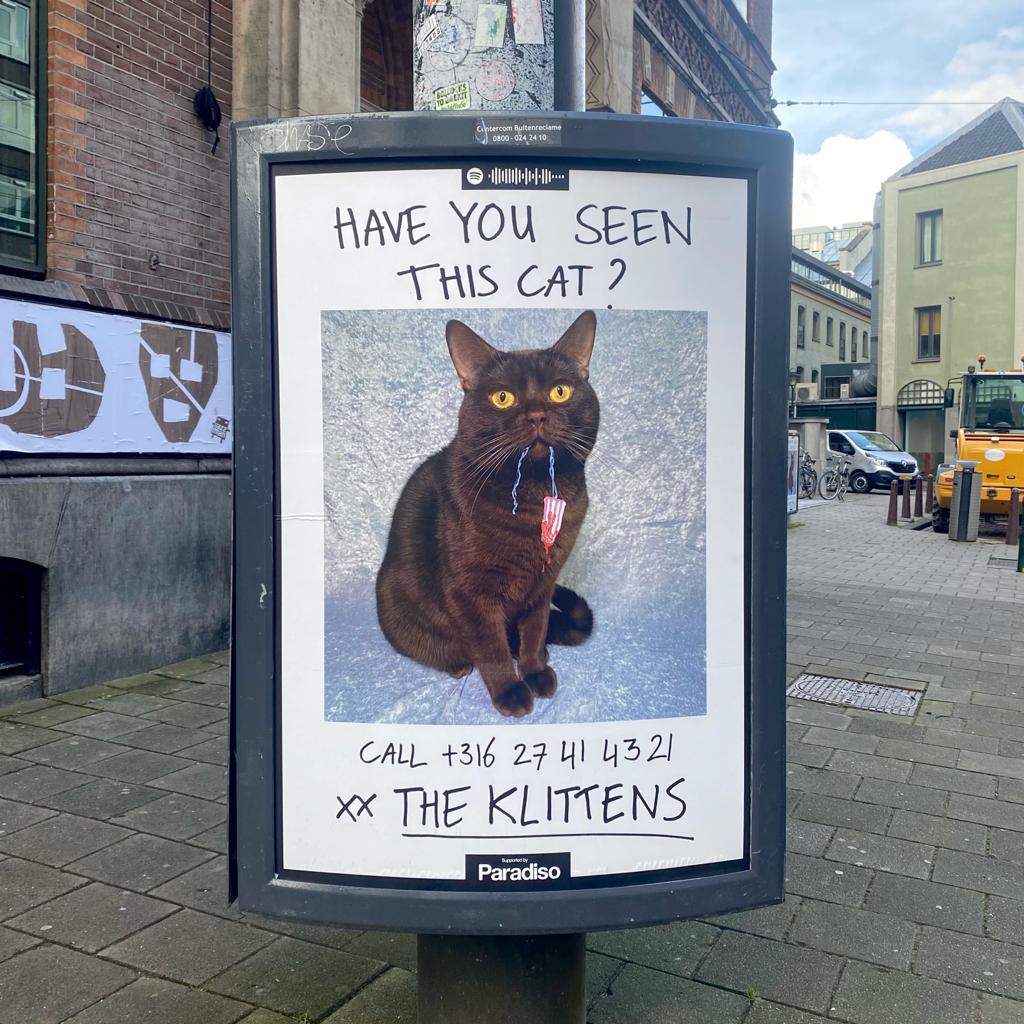 2020
13 February 2020
Listen here to 3FM Toonladder
"From The Klittens to F.L.E.U.R.I."
April 2021
Our cat was lost and thanks to Paradiso Amsterdam our A0-posters were hanging all around Amsterdam for two weeks. KINK FM did an item about it live on the radio.
PARADISO
AMSTERDAM
2022
LOUDER THAN WAR
THE DAILY INDIE
INDIESTAD
HET PAROOL
3VOOR12
Here's an overview of some previous press that was flattering enough to share here.

Note: some quotes from Dutch articles were translated into English. Click on the titles to read the full articles.
DISKUNION
GIRLSIDE JAPAN
June 2021
Japanese merchandise shop Diskunion Girlside made a mini-zine about us with an interview in support of the sales of our t-shirts and cassette-tapes in their webshop.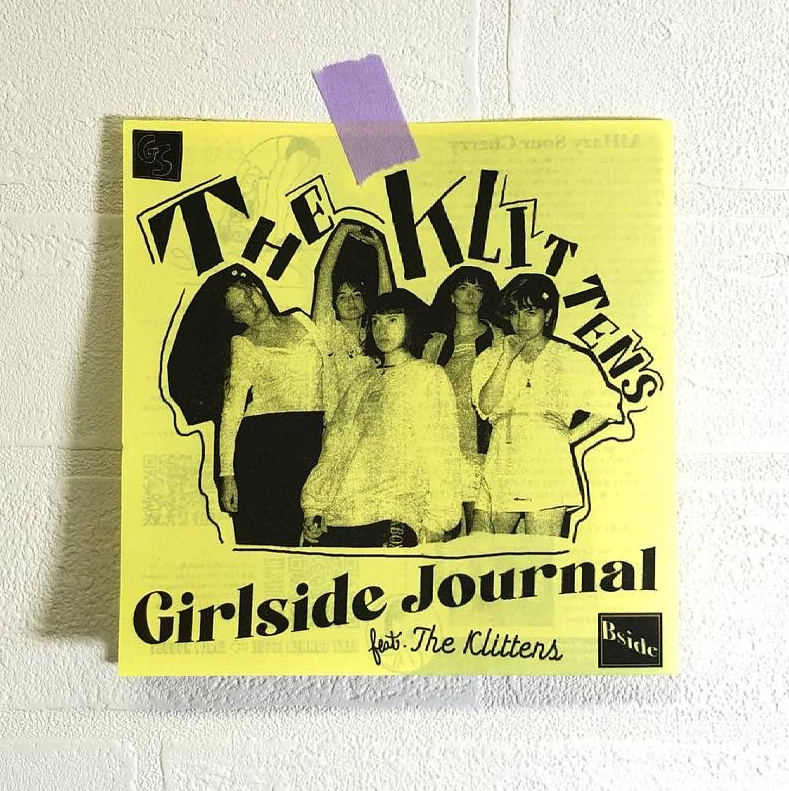 SO YOUNG MAGAZINE
15 October 2021
'There's always been a nonchalance to The Klittens' music, a sense that these five have decided that it doesn't really matter if you may not be the most skilled instrumentalist as long as you write the coolest songs on the block. And while that devil may care attitude is definitely still present in new offering 'Canned Air', it also seems as if there's a newfound ambition to the track.'
15 October 2021
'Congruently, "Canned Air" masterfully works its way to a cathartic punk rock release.'
BEATS PER MINUTE
FOR THE RABBITS
22 October 2021
'It's early days, yet already The Klittens feel like a band who are onto something special, don't be surprised if these new Dutch masters end up making a very big splash.'
PINGUIN RADIO
1 November 2021
'What makes Canned Air so special, is the vocals. (...) It would be a mess if
they wouldn't do that with such careless precision.'
GET IN HER EARS
22 November 2021
'With this release, The Klittens have made a statement about the kind of music they're going to
put out going forward and it promises to be unusual and enticing in a very exciting way.'
2 November 2021
'Charmed by the outfit's knack for frankness and writing our new
favourite breakup song, we chatted with 3/5 Klittens —Kat, Laurie and
Michelle—about growing closer together through the realization of "Canned Air."'
ALSO COOL MAG
THE MATT WILKINSON SHOW ON APPLE MUSIC
Both 'Bleeding Gums', 'Canned Air' and 'Herkenbosch' have been featured on Matt Wilkinson's playlist on Apple Music.
BEATS PER MINUTE
12 January 2022
'The Klittens found their footing as one of the more promising acts from the low countries, oozing the swagger of their DIY beginnings to a more ambitious chapter.'
2021
9 January 2022
'(...) Theirs is the perfect blend of indie-fuzz and indie pop, with a dark and honest undertone, and with that they are making their way out of the underground Amsterdam scene and onto the emerging international scene!'
MUSIC FOR THE MISFITS
8 January 2022
'There must and will be dancing when hearing The Klittens and the Dutch have made that clear from the first second.'
7 January 2022
'Herkenbosch is a song that drips with enthusiasm, which makes you want to start a band yourself right away, and that's the best compliment you could wish for in 2022.'
DANSENDE BEREN
3VOOR12
8 January 2022
'Herkenbosch is irresistible, being so wilfully itself and catchy as anything.
HARD OF HEARING MUSIC
LIVE